Just like any other challenging aspect in business, cybersecurity is something we all loathe but are forced to deal with at some point. Approaching the establishment of security for your business is best described by most as an inconvenience. This leads to a slippery slope in which the challenge of implementation translates into avoiding a solution entirely leaving both in-house and remote systems at risk of attack.
A common misconception among small businesses is the mentality of "my business is too small to become a target of a cyber-attack". Wrong. Currently, 43% of all cyber-attacks are targeted at small businesses. The game of cybersecurity has only become more complex. Gone are the days where businesses only need to protect what exists within the four-walls of their corporate office. With WFH (work from home) more prevalent than ever cybercrimes and threats are at an all-time high.
The all-important question remains – how do you keep your phone systems and business safe?
How Can You Secure Your Network and Its Devices?
The complexity of cybersecurity makes it nearly impossible to find just one solution for all your business protection needs. That is why consulting with the best MSP (managed service provider) is the first step when approaching the establishment of cybersecurity. Such companies like Liberty Communications will lead you to the right solution that works proactively instead of reactively giving you piece of mind. The most impactful step in preventing cyber-attacks is to create a proactive "plan" with your MSP.
In the meantime, the rest of this article will provide you with a few tips and steps you can take today in protecting against cyber-threats.
Utilize a Firewall
A firewall, at best, works as basic protection to keep the unwanted out. In this way, firewall can be thought of as a door with a lock to a house but that is all. There is no alarm for when that door is breached. In theory, every device should have this basic protection but just know that it is not by any means full protection to all cyber-threats and an MSP is still needed to provide that necessary watchful eye in the sky.
Stay Up to Date
Business phone systems, much like any other device, run on software like a computer. Thus, they require updates to reach maximum functionality. Often, these updates are intended for new features, bug fixes, and even security. When your business phone or other device is not updated, you are rendering said device to exploits accessible to cyber-attacks.
Not So Fun Facts!
 91% of attacks launch with a phishing email.
 A business falls victim to a ransomware attack every 14 seconds.
 38% of malicious attachments are masked as one Microsoft Office type of file or another.
 Companies faced an average of 22 security breaches in 2020.
 The global cost of online crime is expected to reach $6 trillion by 2021.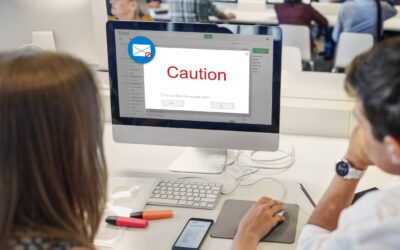 Online privacy is vital to conducting business but has never been at more of a risk than in recent years. At the...