Structured Voice & Data Cabling
Liberty Communications offers the Front Range a one-source structured cabling solution. From a single cable installation for a network printer, to cabling an entire suite, our engineers will work with your team to implement the best solution at a competitive price.
Changes in building codes have required the removal of low voltage wiring in the above ceiling space in commercial buildings. Before, a tenant used to be able to abandon above ceiling cable when vacating a space. Now, more municipalities and landlords that operate within them are now requiring the removal of all low voltage cable upon moving out of a space. This was proposed by the National Electrical Code (NEC), and National Fire Protection Agency (NFPA) recognizing the potential dangers of abandoned cable. These dangers include pathways and conduits being filled beyond capacity, lack of adequate air flow through air ducts, and adding fuel to fires which can spread quickly.
Liberty Communications regularly assists tenants and building owners with cable removal and abatement. Contact us to help you get a plan in place to ensure proper cable removal, and compliance with all fire and safety codes.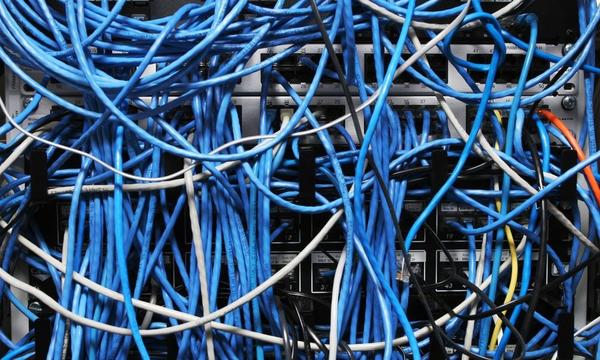 Expert Installation from Start to Finish
Our professional team has extensive experience with every step of the cabling process. We offer a free site survey for estimates, and our top-notch staff includes a master electrician for low-voltage permits. We employee an exceptional management team that works with general contractors on-site to ensure deadlines are met. Liberty Communications stresses clear communication while planning and installing a wide variety of infrastructure and cabling projects.
CAT5, CAT5E, CAT6, and Fiber Optic Cabling
Wire management installation
Patch panel installation and termination
Office cabling testing and certification
High-Quality Infrastructure
Liberty Communications can install any of the following:
Fiber optics
HDMI
Coaxial cable
Cable extensions for new T-1's or PRI service
Sub-contracted cabling — other cabling companies outsource their cabling to us
Our Cabling Guarantee
Liberty Communications offers a (10) year warranty* on all cabling installations, covering jacks, cabling and labor. Our expert team brings years of experience to each and every project, no matter how large or small.
* Lifetime guarantee against manufactured defects.
Experience the Liberty Communications Difference
We invite you to take advantage of our free site survey with complete estimates for your next project. Contact us today with any further questions about our services. We'd love the opportunity to demonstrate what makes us industry leaders for voice and data network cabling!
Don't Be Shy
Feel free to drop us a line anytime and one of our team members will be happy to help