 VoIP phones & headsets
The only VoIP phones that display the presence status information
of on-site and remote colleagues
SuperVision
The exclusive desk phone designed for Top Managers who desire to be in control.
SuperVision runs on an Android-based operating system and is equipped with an 8" display and removable webcam. SuperVision allows managers to monitor their company's telephone activity (Call Center Wallboard).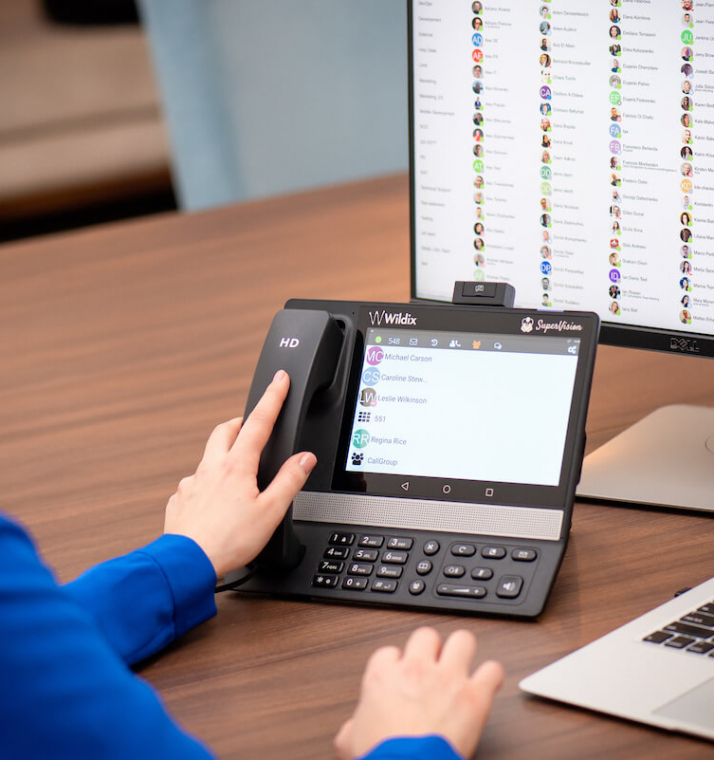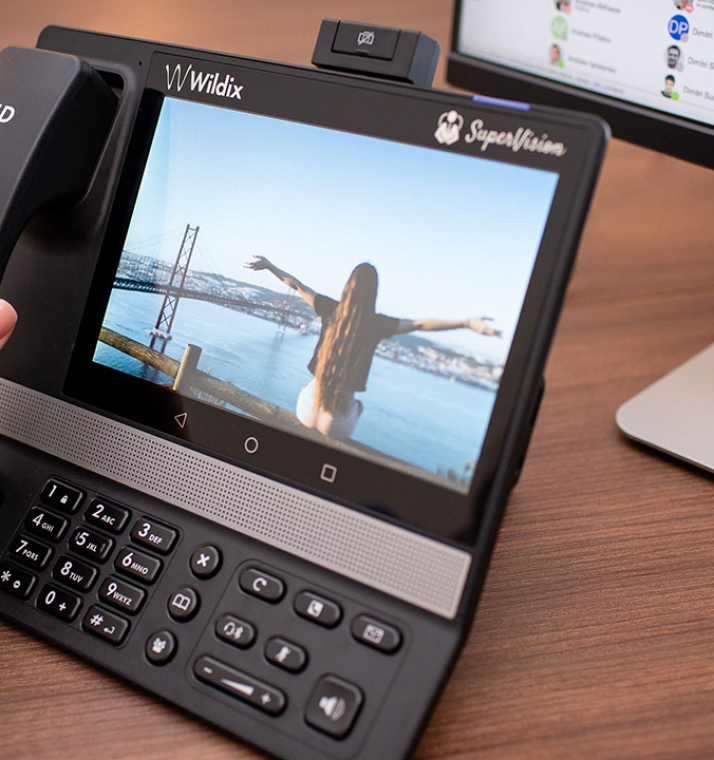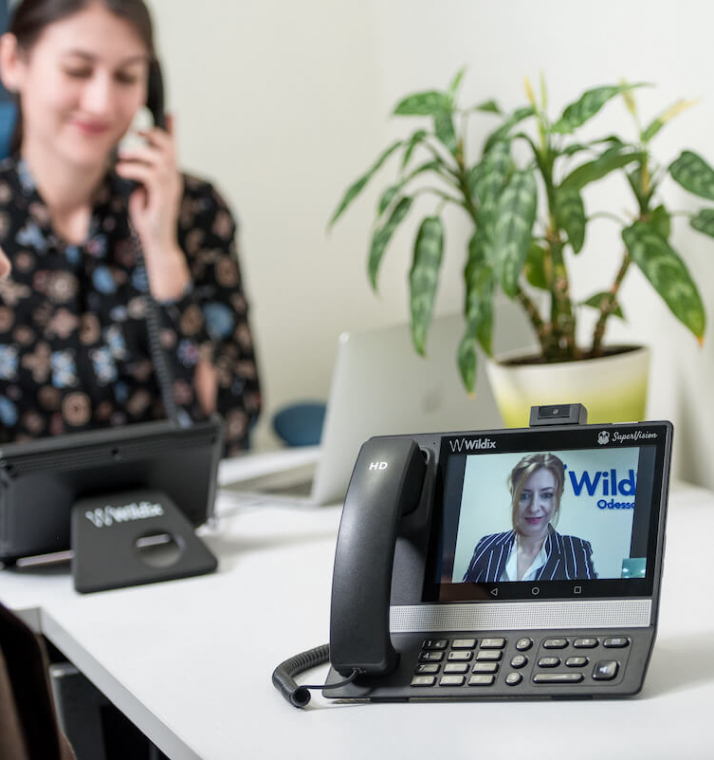 Android 5.1 OS
Touchscreen
Presence & Chat
2 x Gigabit Port 10/100/1000
WebRTC videoconference
802.3az Green Ethernet
Audio HD wideband
USB 2.0
120 BLF keys
8" color display 1280×800
5 MP removable webcam
USB Headset support
Integration URL (Wallboard)
Bluetooth 4.1
Dual band WiFi 2.4Ghz / 5Ghz, 802.11b/g/n
LED buttons (Voicemail, Mute, Audio output)
PoE IEEE 802.3af
PBX phonebooks
Online call history
WelcomeConsole
WelcomeConsole is perfect to monitor a high number of colleagues and manage high volumes of calls.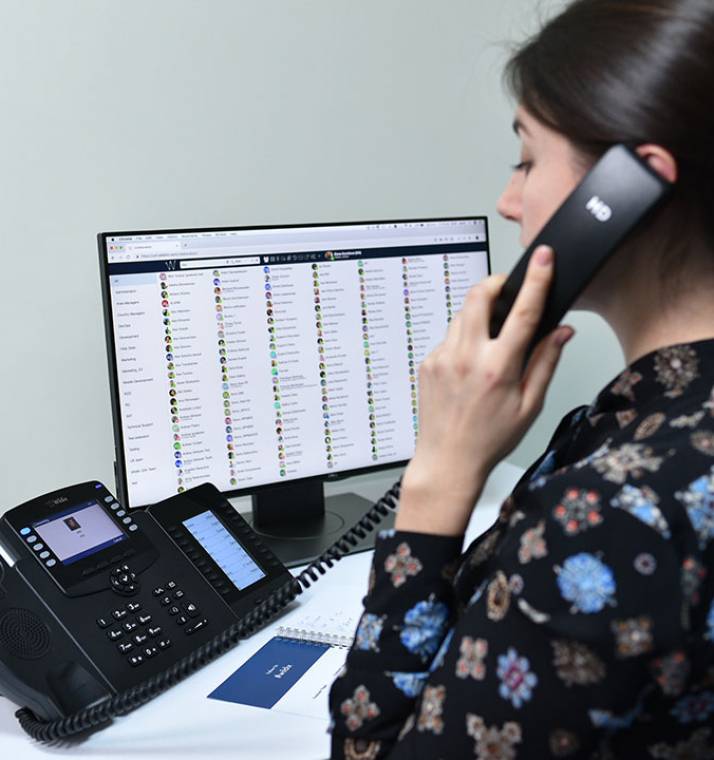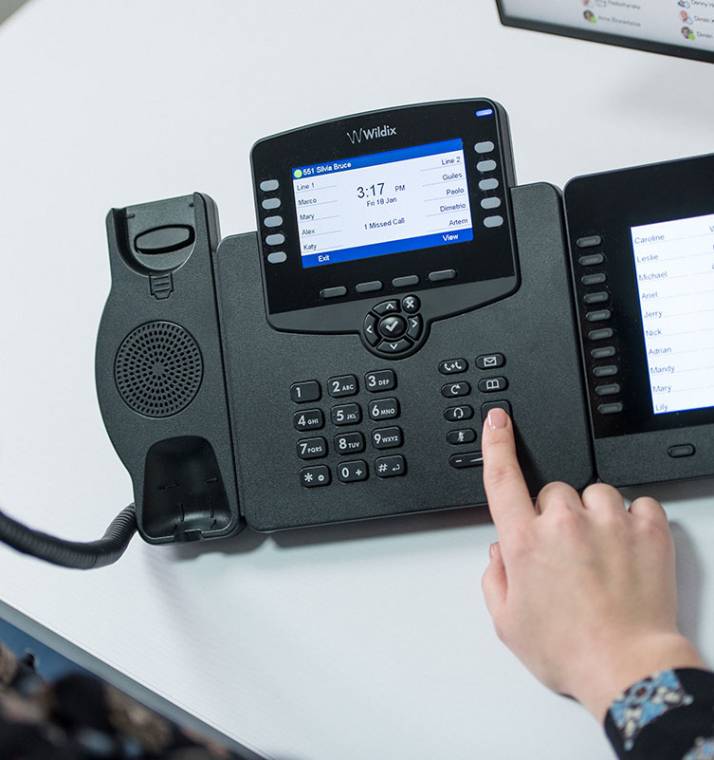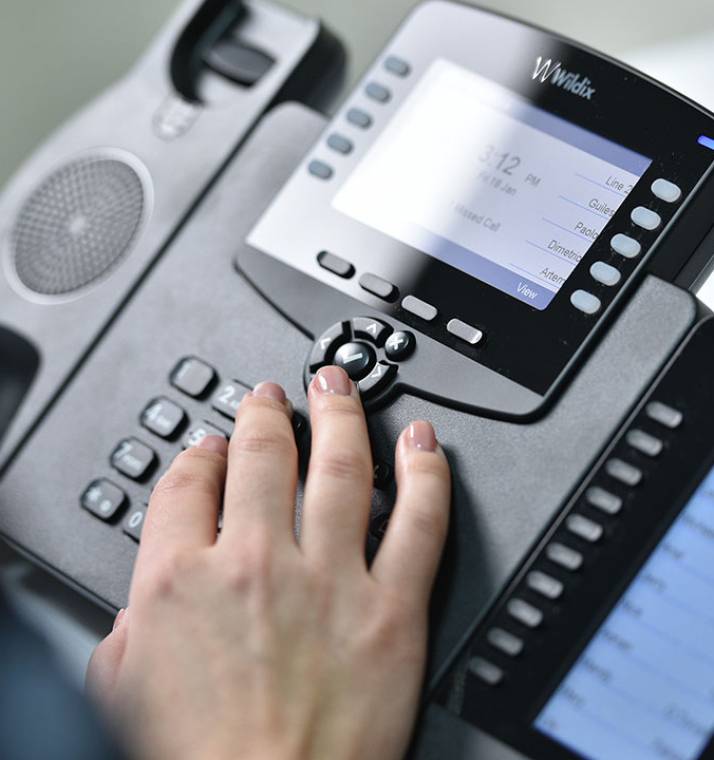 4.3'' color display 480*272
Max 60 BLF (phone + ext. module)
1 Extension module WP490EXT included
Up to 3 ext. modules supported

USB Headset support
Presence monitoring in phonebook
Caller image
2 x Gigabit Port 10/100/1000
802.3az Green Ethernet
Support of WPEHS
Monitoring of presence status via BLF keys
The Wildix VoIP phones Line Up
The first phones designed for businesses, able to increase your productivity and secure by design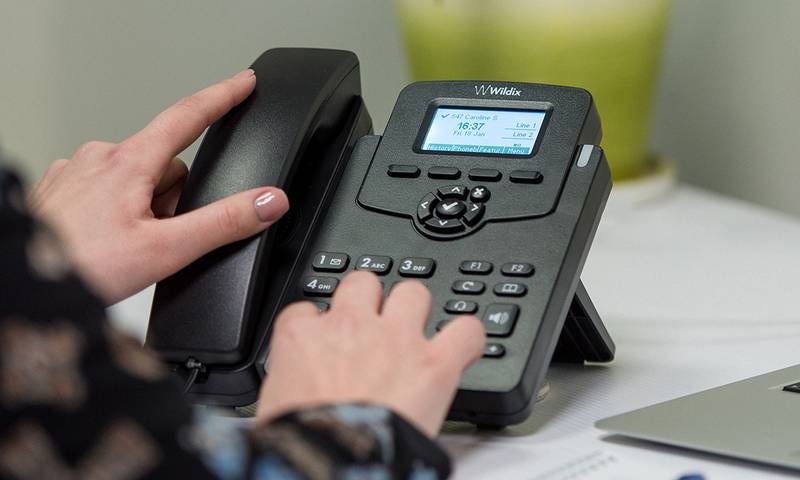 WP410
Display:132*64 LCD

2 x Port 10/100

PBX phonebooks

Max 4 BLF keys

PoE IEEE 802.3af

Online call history

Quick DND key

Visual / Audio BLF

Voicemail notification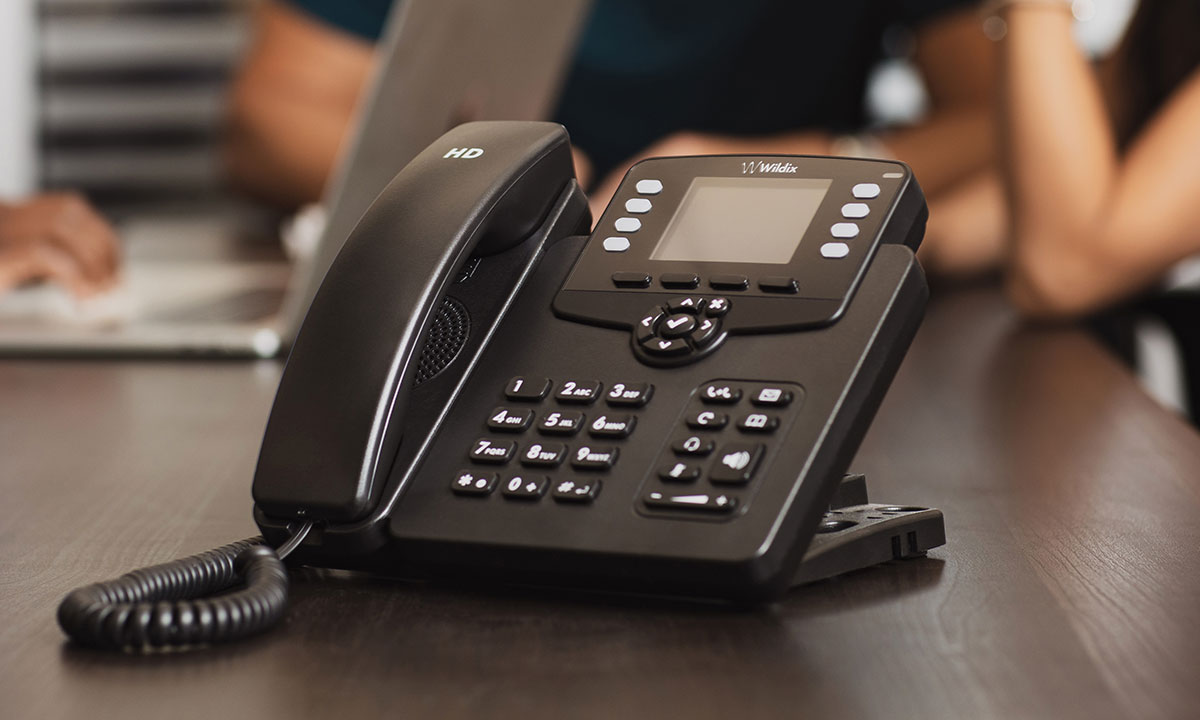 WorkForce
(WP480G)
USB-Type C input

USB Headset-compatible

USB Bluetooth dongle connectivity (*Available in Q3 2020)

New, faster chipset

Opus compatibility

5G / WiFi dongle-ready

added support for monitoring presence status of colleagues via BLF keys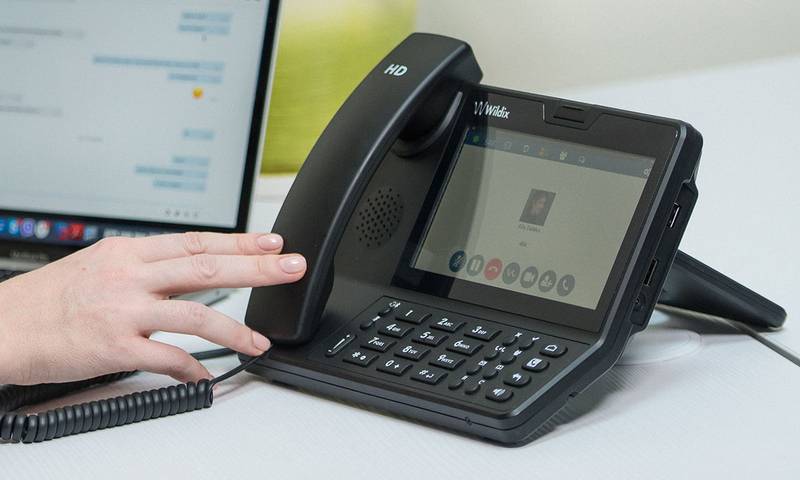 Vision
All the features of the WP480 +
Android 5.1 OS

7" color display 1024*600

Touchscreen

Presence & Chat

2MP webcam

WebRTC videoconference

WiFi 802.11b/g/n

Bluetooth 2.0

USB 2.0

120 BLF keys

Available in black and white colors
Integration Of Vision / SuperVision With Door Phone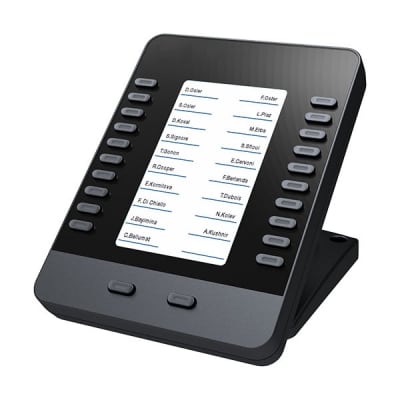 WelcomeConsole-EXT Extension Module
40 LED BLF keys (2 pages)

4.3'' color display 272*480

Presence Monitoring

Up to 3 Modules Daisy-chain

Compatible with WP490G
DUOLED
Show when you are available. Green Light to your performance!
Often, colleagues can't clearly tell whether you are busy with a call or not. 
The Wildix DuoLED headset solves this problem and saves everyone's time by showing your coworkers when you are available.
The DuoLED shows your current status to your colleagues with its built-in LED indicator. This is done through a simple color-coding system: green means "available," violet means "do not disturb," red means "on the phone".
This cutting-edge device is fully compatible with Wildix's latest devices and equipped with a USB type-C plug.
You can also make full use of Opus audio with the DuoLED thanks to its long microphone, which both reduces ambient noise and captures spoken audio with exceptional quality.
The headset even comes with an elegant support bracket that shows colleagues your status while you're not at your desk — and keeps your workspace nice and tidy in the process.
Do you work in a call center? No problem: the DuoLED is also available in a one-earphone version. The MonoLED is designed to provide first-class audio quality as it displays the color-coded status of the user, all while keeping the wearer comfortable with its luxuriously cushioned earpad.
Features
USB Type-C plug
USB adapter included
Answer/ Hangup/ Mute/ Volume control buttons
Status LEDs: online, away, DND, on call, ringing, call held, missed call
Table stand included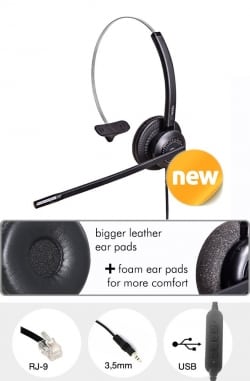 MONAURAL HEADSET
WHS-MONO
Noise cancelling microphone

Big and comfortable ear pad (faux leather / foam)

Compatible with Vision, WP new series, WP first series and W-AIR

RJ9 cable for WP4X0(G) and WP first series

3,5mm cable for Vision, WP600AXX, W-AIR (compatible with iPhone and Android phones)

USB cord for call answer / hangup and volume control from Collaboration (Apple Mac and Windows PC)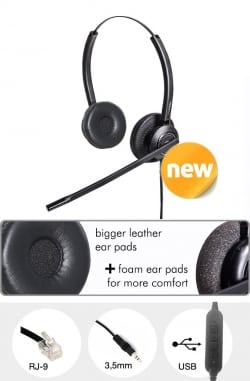 BI-AURAL HEADSET
WHS-DUO
Noise cancelling microphone

Big and comfortable ear pads (faux leather / foam)

Compatible with Vision, WP new series, WP first series, W-AIR

RJ9 cable for WP4X0(G) and WP first series

3,5mm cable for Vision, WP600AXX, W-AIR (compatible with iPhone and Android phones)

USB cord for call answer / hangup and volume control from Collaboration (Apple Mac and Windows PC)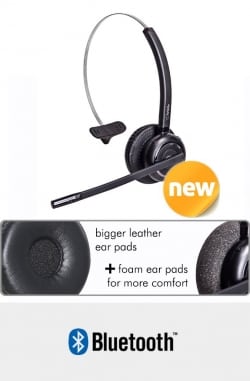 BLUETOOTH HEADSET
WHS-BT
Big and comfortable ear pad (faux leather / foam)

Compatible with: Vision, WP600AXX, W-AIR 150

Bluetooth 4.0

Talk time: 12 hours

Standby: 200 hours

Working range: up to 20 meters

Answer / hangup / volume control on Vision / WP600AXX / W-AIR150 / iOS app (Mac OS / Windows only with USB dongle from Jabra / Plantronics / Sennheiser)

Also compatible with iPhone and Android phones, Apple Mac and many Windows PC models